Furman Soccer's Annual Quinn Game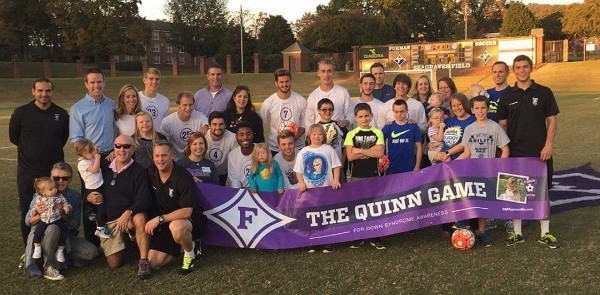 Tuesday, October 10th, 7PM
Stone Soccer Stadium
Furman Paladins vs Wofford Terriers

Make plans to join together with the Furman Men's Soccer team for their annual "Quinn" Game, in honor of a former player's daughter with Down syndrome. They dedicate a game to her every October and invite local families with a loved one with Down syndrome to join them in raising awareness for Down syndrome.
Individuals with Ds and their family will gain free entry to the game, free access to the field and locker rooms, free t-shirts, and participation in the starting lineups and national anthem. You can arrive as early as 6:15 pm for your child to join the team on the field, no later than 6:45 pm for the starting line up. The game will begin at 7pm. 
Registration is CLOSED but please still plan to come out and join us! No RSVP necessary!
---