Seminar: Supporting Positive Behavior in Individuals with DS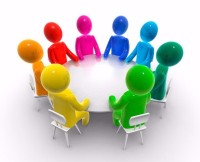 Tuesday, October 24th, 5:30 PM - 8:00 PM
Event Title:
Seminar: Supporting Positive Behavior in Children & Teens with Ds
Location:
GHS Conference Room A & B - 255 Enterprise Blvd Greenville, SC 29615
Description:
The Down Syndrome Family Alliance is proud to host an educational seminar for parents, teachers, and therapists on Dr. David Stein's book, "Supporting Positive Behavior in Children and Teens with Down Syndrome: The Respond but Don't React Method." Dr. Brittany Rudy, Greenville Behavior Psychologist, will be present during the video presentation and afterwards to problem solve actual experiences for parents and teachers with a Q & A discussion.

The material is pertinent for all children and teens with Down syndrome, so please invite your teachers and therapists to attend to learn more about the neuroscience of Down syndrome and how the chromosomal brain difference affects behavior.

At the beginning of the seminar from 5:30pm to 7pm, the video presentation by Dr. David Stein will be shown, but feel free to join by 7pm if you would prefer to watch the video ahead of time (using the link below.) Dr. Rudy will be taking questions from 7-8pm.
---