More Resources
These are valuable links to other websites that will give you more information about Down syndrome.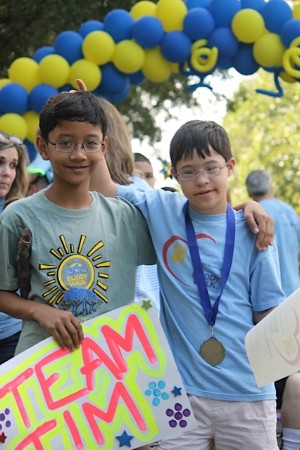 National Organizations
NDSC is located in Atlanta and is a national advocacy organization for Down syndrome, providing leadership in all areas of concern related to persons with Down syndrome. They have a great website and fantastic national public awareness campaign ("Just Dance"), publish a newsletter and other informational materials, and hold a national convention for families and self-advocates every summer. The 41st NDSC convention in 2013 will be in Denver, CO July 19-21.

NDSS is located in New York, NY and has a National Policy Center in Washington, DC. NDSS has a variety of education, research, and advocacy programs and oversees Buddy Walks across the country. NDSS maintains a toll-free number (1-800-221-4602) to its professionally staffed information and referral service available to people nationwide. They provide general information about Down syndrome, referrals to parent support groups as well as other local and national resources, and information on many topics related to Down syndrome. A free information packet is available for new parents.

NADS is located in Wilmette, Illinois and serves the greater Chicago metropolitan area. However, many of the services are available to a wider community, including the conferences, products and publications, website and online Discussion Forum. Members can be found throughout the United States and across the globe.

DSAIA is an organization of affiliate members (local Down Syndrome associations) that has developed a Steering Committee and is working on the development of a Down Syndrome Trade Association. The group holds conferences for Executive Directors and Board Members and is devoted to sharing best practices.

The National Center website provides a portal for medical professionals and new and expectant parents to find out about what each of these free and well-established resources offers. The activities of the National Center include the distribution of professional resources to medical providers and their patients both in print and online; the development of new materials; and national medical outreach through journal publications and presentations at medical conferences.

IMDSA is designed to support any family or individual whose life has been affected by Mosaic Down syndrome by continuously pursuing research opportunities and increasing awareness in the medical, educational and public communities throughout the world.

The mission of Reece's Rainbow is to rescue orphans with Down syndrome through the gift of adoption, to raise awareness for all of the children who are waiting in 25 countries around the world, and to raise funds as adoption grants that help adoptive families afford the high cost of adopting these beautiful children.

This site exists to celebrate the uniqueness of people with Down syndrome, and to offer support to new and expectant parents. The goal is to help all families to share experience, advice and support during both joyous and difficult issues.

March 21, 2013 marks the 8th anniversary of World Down syndrome Day (WDSD), a global awareness day which has been officially observed by the United Nations since 2012. Down Syndrome International invites everyone across the world to wear Lots Of Socks this year on 3/21 to raise awareness on WDSD.

NICHCY offers a wealth of information on disabilities in infants, toddlers, children, and youth. This national resource also provides easy-to-read information on IDEA, the law authorizing early intervention services and special education, plus bullet points tips for new parents and educators and links to additional articles and services. Their State Resource Sheets help parents navigate the maze of services and connect with the local disability agencies and organizations in their state.

The country's largest voluntary organization committed to the welfare of all children and adults with developmental disabilities and their families.
Local Organizations
Here at Greenville County Disabilities and Special Needs our mission is to serve and assist people in our area with developmental disabilities, Autism, and head and spinal cord injuries. We exist to help these people meet their everyday needs and achieve their life goals. We strive continuously to improve our services, facilities and programs on a person-to-person basis. Our programs and services are designed to be person-centered and dynamic, rather than program-centered and static. Therefore, we design and adapt our programs to meet the individual needs and preferences of the people that we serve.

An umbrella of services, including BabyNet, Children's Hospital of Greenville Hospital System's University Medical Center, Clarity, Family Connection, Greenville County Schools, and KidVentures , united through a unique partnership under one roof that serves to link families with services for developmental support. These six independent entities provide services for evaluation, treatment, education and support for children, adolescents and adults with special developmental needs.

The mission of Family Connection of South Carolina is to strengthen and encourage families of children with special healthcare needs through parent support. FCSC has a statewide infrastructure in place that includes a network of families and area offices across the state. Parents' personal insights, knowledge of their children, resources, and solutions gained through experience offer valuable perspectives. Parents work together with professionals as equal partners in planning, implementing, and evaluating programs and services for their children.

Parents Reaching Out to Parents of South Carolina, Inc., is a private, non-profit organization which provides information and training about education to families of children with all types of disabilities.

PRO-Parents believes parents can be the best advocates for their children.

Experienced advisors assist parents to become more aware of their rights and responsibilities through telephone counseling, workshops and written material.

With confidence and knowledge, parents can then participate as equal partners with professionals on behalf of their children.

PRO-Parents also serves professionals in education and related fields throughout South Carolina.
Health Resources - Physical, Emotional and Developmental
Dr. Leslie Meyer, one of South Carolina's first orthopedic physicians, began his practice in Greenville in 1951. During his residency at Shriners Hospital, Dr. Meyer concluded that every child, regardless of his or her medical challenges, could benefit from education and therapy services. Today, as a DSS-licensed childcare provider, Medicaid rehabilitation facility and a S.C. Charter School, accredited by the National Association for the Education of Young Children, the Center is the realization of Dr. Meyer's vision, with more than 175 special-needs preschool children receiving services annually.

By the American Academy of Pediatrics

The Greenwood Genetic Center (GGC), founded in 1974, is a nonprofit organization advancing the field of medical genetics and caring for families impacted by genetic disease and birth defects. A talented team of physicians and scientists provide clinical genetic services, diagnostic laboratory testing, educational programs and resources, and research in the field of medical genetics. GGC's faculty and staff are committed to the goal of developing preventive and curative therapies for the individuals and families they serve.

Based in Charleston now, TalkTools® was founded by Sara Rosenfeld-Johnson with a vision of sharing expertise among practitioners serving those with speech, oral, and feeding disorders. With 40 years of developing innovative products and techniques for enhancing speech and feeding skills based on Sara's hierarchy approach, TalkTools® prides itself on fostering programs, tools and training to assist therapists in offering better care to their clients. There is a community of industry-leading Speech and Occupational Therapists creating ground-breaking programs, tools, and training, that therapists can implement with confidence into their practice. There are also speech and oral placement therapy resources designed for use by practicing therapists and clinical professionals. The nationwide workshops and seminars enable therapists to connect and exchange ideas with other specialists across the country, and cover a broad spectrum of topics and events.

A program of the Greenville Hospital System Children's Hospital that provides therapeutic services for children on an inpatient and outpatient basis from birth to age 21.

Headquartered in Spartanburg, South Carolina, Advanced Therapy Solutions Inc. is a quality provider of physical, occupational and post-rehabilitation fitness therapy, specializing in the proactive management of industrial, neurological and orthopedic clients of all ages.
Education
Legislation for people with disabilities.

College Options for People with Intellectual Disabilities.

A program in the upstate for you to look into.

Our goal at Ruby's Rainbow is to grant scholarships to adults with Down syndrome seeking post secondary education, enrichment or vocational classes who feel that higher education is the right choice for them.
Research Sites
---